Olivia Van Goor and Henry Ford Big Band Show
Submitted by webmaster on Wed, 08/09/2023 - 3:43pm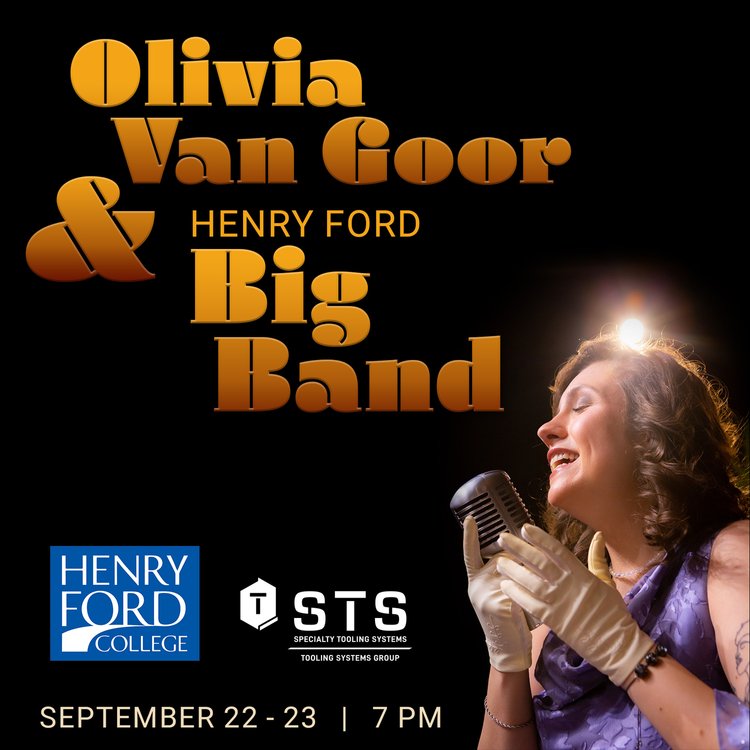 The Henry Ford Big Band and Olivia Van Goor will be performing Friday, September 22, and Saturday, September 23, at the Adray Auditorium on the Henry Ford College campus.
Olivia Van Goor is a Detroit-based jazz vocalist, band leader, arranger, and composer. She has built a reputation for not only being an excellent vocalist, but a creative force to be reckoned with. She received nominations for Best Vocal Jazz Album of 2021 by the Detroit Music Awards, Outstanding Vocalist in 2023, and recognition by many Michigan-based publications. Beyond recording, she has produced the show "Duets" with vocalist/bassist Reuben Stump exploring the history of vocal jazz duets and some of her own arrangements as well as an "Anita O'Day Tribute" in which she pays tribute to the legendary vocalist Anita O'Day. She has worked with musicians like Detroit pianist Scott Gwinnell, 2-time JUNO award winning vocalist Caity Gyorgy, prolific Ann Arbor bassist Paul Keller, Lansing guitar great Randy Napoleon, and many others. Olivia continues to collaborate with many Michigan leaders in jazz in addition to surrounding midwest musicians to spread musical joy.
The Henry Ford Big Band has performed at major jazz festivals throughout the world. The group, performing for over four decades, has appeared dozens of times at the Detroit Jazz Festival, twice at Carnegie Hall, and seven times at the prestigious Montreux International Jazz Festival in Switzerland. They have performed at Presidential Inaugural Celebrations and have also toured Hawaii, St. Thomas, Virgin Islands, and France. In addition, the Big Band performs numerous civic function and dance engagements throughout the year.
Tickets!:
Friday Performance: https://www.eventbrite.com/e/olivia-van-goor-and-the-henry-ford-big-band-tickets-671510374607
Saturday Performance: https://www.eventbrite.com/e/olivia-van-goor-and-the-henry-ford-big-band-tickets-673454218697