An Evening of Experimental Sounds: A WHFR Benefit at Trinosophes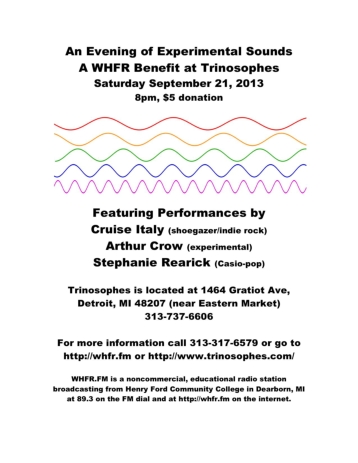 Click image for a full size printable flyer!
WHFR is excited to have our latest fundraising concert at Trinosophes in Detroit. This evening of experimental sounds will feature performances from local shoegazer/indie band CRUISE ITALY, local experimental group ARTHUR CROW, and Madison, WI Casio-pop artist STEPHANIE REARICK JR.
This event has a suggested donation of $7 at the door BUT has a sliding scale of $5-$10. Doors open at 8 and music should start by 8:45.
Links with more information about the performers, the venue and WHFR is listed below.
CRUISE ITALY is a shoegazer indie rock band out of Detroit. Featuring ex-members of King for a Day, Few and Far Between, Ten Second Dynasty, and Laughing Gas. They describe their music as pretty, creepy, and loud. More info:
http://www.facebook.com/CruiseItaly
http://www.cruiseitalymusic.com/
ARTHUR CROW is an experimental group featuring a wide range of instruments from the Metro-Detroit area. Roger Hayes: Udu Mbwata Clay Drum, Tibetan Healing Bowl, Chinese Suspended Cymbal, Guitar, Voice. Brian Taratuta: Violin and Guitar. Cameron Mclane: Piccolo Bass/Synth bass. Tom Wilson: Analog Synthesizers.
STEPHANIE REARICK JR's music is very textured Casio based pop utilizing a Boss Loopstation to build keyboard, trumpet and voice loops. She is from Madison, WI. Keyboard Magazine described her as "Amanda Palmer gone psychedelic and retro -- one of the rawest, most original aesthetics we've heard in awhile."
http://www.stephanierearick.com/
Trinosophes is a cafe, gallery, performance space in Eastern Market. What began as Bohemian National Home c. 2004-2008 and became Bohemian-in-Exile c. 2008-2011 is now Trinosophes [TREE-no-sofe].
http://trinosophes.com/
http://www.facebook.com/Trinosophes
WHFR is a noncommercial educational radio station broadcasting out of Henry Ford Community College in Dearborn, MI. You can hear WHFR at 89.3 on the FM radio dial or online at http;//whfr.fm.
http://whfr.fm/
http;//www.facebook.com/whfrradio